What is a DJ, What does a DJ do, and how do I become a DJ? Your introduction to the art of DJing!
In this article, we will answer some of the most frequently asked questions by beginners interested in DJing. 
DJing is a fantastic hobby that develops into a dream job for some. The ability to control music to express yourself is an amazing skill and is considered a modern art form by many. 
Just as with playing a musical instrument, DJs sometimes specialise in specific areas. Here you'll find out exactly what DJs do and how to go about doing it yourself! 
---
What a DJ Does
A DJ plays prerecorded music to an audience. It is their job to create an enjoyable listening experience. 
Stereotypically, DJs are front and centre of a nightclub or festival stage, but they actually perform at various events.
From playing music on the radio and podcasts to blending into the background of a restaurant or late-night bar. They get the office party started, perform at private functions such as weddings, retail or fashion events, on live streams and even simply at house parties or domestic gatherings. 
More uncommon types of DJ include performers known as battle DJs who specialise in competitively playing routines. Some DJs perform as part of a band, playing samples or backing tracks alongside live musicians.
The one thing that unifies them all – they love music and putting it together!
Where it all began 
DJing is a concept based on an individual using equipment to play two or more sources of music, using various music manipulation techniques to avoid pauses and gaps when putting songs together.
The roots of DJing were born out of a somewhat musical rebellion. This modern art form was cemented in 1970s Jamaica and New York City where DJs pioneered techniques using only a couple of turntables and make-shift mixing equipment to flick between the audio.
DJs would create new sounds by simply cutting back and forth between two copies of the same record. This has now evolved into an art form within the DJ community, known as turntablism, of which the revered DMC world championships draw masses of yearly spectators.
Although DJ culture was largely built by early hip-hop DJs, the roots of modern DJing stem back even further. DJ Francis Grasso popularised a now fundamental and absolutely essential skill in a 1960s New York City nightclub. Beatmatching.
Beatmatching
If there is one skill every beginner DJ needs to learn, it's beatmatching!
This is where one track's playing speed, or tempo, is adjusted so its beats per minute (BPM) match with another. The two tracks can then play simultaneously at the same tempo and mesh together as one rather than clash.
As beatmatching allows DJs to blend tracks together, new versions of songs can be created live depending on how the DJ decides to play and manipulate them. A DJ can combine vocals from one track with the instrumental sections of another, creating a completely new sound. The use of this skill to harmoniously put two tracks together is known as mixing.
Mixing
When a DJ plays music for an extended period, this is known as a set. Mixing is most commonly heard during a set when a DJ combines a song's ending, or outro, with the next song's beginning, or intro, to make a seamless transition. 
There are many factors to consider in creating a successful mix, but beatmatching is the first and only essential step. Other techniques and skills can be layered on top to enhance the mix.
Hip hop-inspired techniques such as scratching, using the sampler and contemporary tone play are examples of more advanced skills a DJ can add to their transitions and mixes as their abilities grow. 
---
Do DJs need to make their own music?
DJs do not need to make their own music. However, many DJs choose to make their own remixes. This is when a DJ creates their own version of an existing song.
People who create music, especially electronically, are sometimes incorrectly referred to as DJs. Although they might DJ to perform their tracks live, they are actually known in the industry as producers. 
Confusion around this stems from the fact that a lot of producers will DJ to promote their material. Some will also call themselves 'DJ' as a part of their stage name, perhaps as they started out DJing. 
Commercial radio presenters are also often incorrectly referred to as DJs. They do not choose or make the music that plays on their shows. Instead, it is their job to introduce music and to host and entertain audiences. 
Radio DJs, on the other hand, will select and often mix their own music choices and perform presenting duties. They are usually heard on-air during the evening through to the early morning.
---
What equipment do you need to DJ?
Getting started as a DJ is not the commitment it once was and with the introduction of modern technologies like music streaming it has become much more accessible.
DJs need equipment that allows the playback of at least two different pieces of music simultaneously. Traditionally, this meant having two separate bits of kit, or 'decks'. Today these devices range from USB multiplayers to DJ software controllers or even laptops and smartphones, with entry-level controllers being the most popular choice for beginners.
Decks
The first DJ decks used were record players designed to play vinyl, known as turntables and the tradition lived on long after the general public moved over to CDs. 
The current industry-standard decks used are Pioneer DJ's CDJ multi-players. They most commonly play music via USB sticks or hard drives but can also play from SD cards, plugged-in computers and are now cloud streaming. 
All playback devices will preferably have tempo control for beatmatching. Smartphones and laptops don't include this as they are not designed solely for DJing.
Modern digital multiplayers also include functions such as key lock, hot cue banks and looping controls as further creative tools to help with mixing.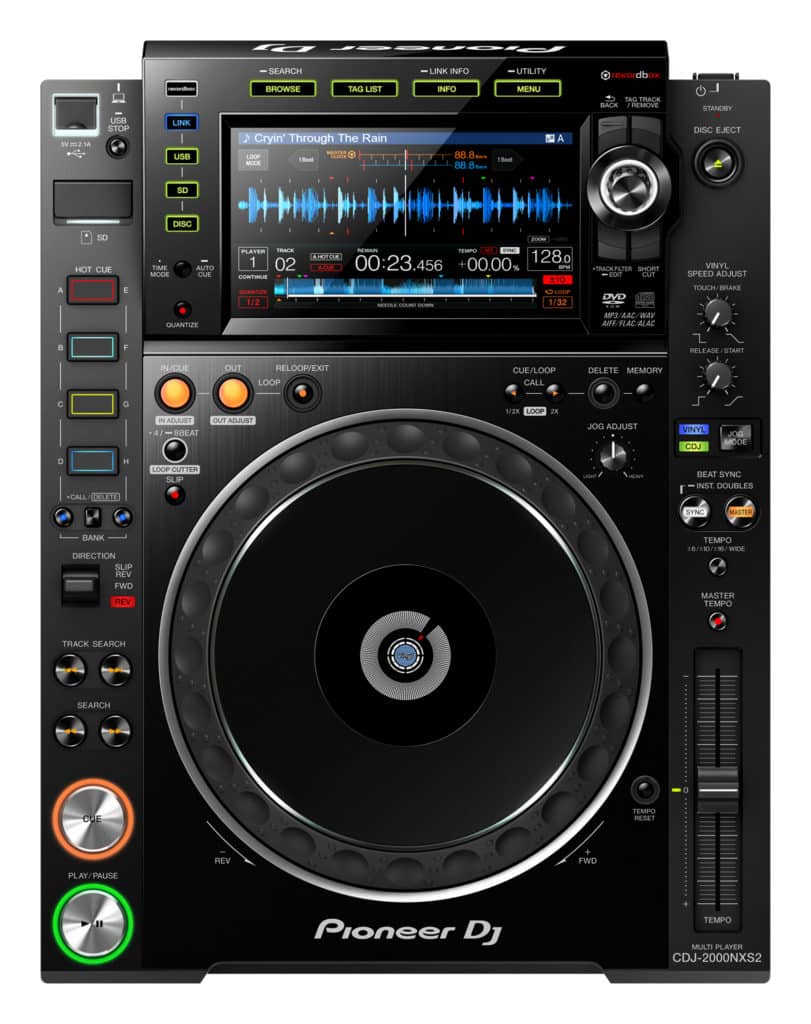 Mixers
An additional piece of gear is used to blend the two music sources together. This is known as a DJ mixer. It has volume controls for each device and EQ controls to shape the sound. 
Mixers will often also include effects and filters to allow the DJ to layer and further manipulate the sound of the music. This is particularly useful when transitioning from one song to another.
Software
A large proportion of DJs now use an app, also known as performance software. This both catalogues the DJ's music library and plays back their music files with performance-enhancing features such as EQ, filters and effects.  
The most popular DJ software used with controllers are Serato DJ, rekordbox and Traktor.
Controllers
Rather than having two players separately, most modern beginner DJs now use controllers. These are cheaper, all-in-one units that control DJ software running on a computer, phone or tablet. See our guide to the Best Beginner DJ Controllers for more on this.
Controllers simulate two or more physical playing decks and a mixer, allowing DJs the hands-on experience of a rig made up of separate equipment. The only difference is that the playing tracks' information is displayed on a computer or smart device screen rather than on the screen of a deck.
Tablet, smartphone, computer
Alternatively, for those simply wanting to try DJing for the first time or looking for the cheapest option, it is possible to DJ with just an app on a computer or smart device with no controller. However, mixing this way can prove challenging as there are no physical controls.
VirtualDJ for PC/Mac and Algoriddim Djay for PC/Mac/iOS/Android are the most popular DJ applications for those not using controllers or decks. 
Algoriddim Djay, in particular, can be used with touch screen devices, making operating virtual mixer tools more intuitive than using a keyboard and mouse.
For more software options, see our Ultimate DJ Software Showdown. It covers everything from what the different software platforms do to breaking down their technical requirements.  
Speakers
Speakers are essential as they are required to hear your mixes out loud and play to an audience. There are three main categories of speakers to consider: Home/studio monitors, medium-sized gathering speakers and big event PA systems. 
Home/ studio monitors are usually the best choice for beginner DJs as they are the most affordable and can double up as entertainment speakers for domestic use.
When progressing to a more professional set-up, beginners may want to consider investing in some medium-sized speakers or a PA system, depending on the events they need to cater for.
See our Best Speakers For DJing article for more on this.
Headphones
Headphones are a DJ's private speakers that only they can hear. They are crucial to the DJ experience and are the most important tool in preparing a performance before delivering it through the performance speakers. 
Through their headphones, a DJ can choose and cue tracks, listen to mixes in progress and play around with effects before sharing their work with the audience.
---
How much does DJ equipment cost?
The equipment a DJ uses is usually influenced by the style of DJing they are performing. A scratch DJ, for example, may use a battle mixer and turntables, which are usually very expensive. An industry-standard rig would come in at close to £3,000.
However, to start DJing, most people will use a controller. These offer great control for as little as £79 for a 'lite' controller running a free version of DJ software. 
A more professional mid-range controller would cost between £500 – £1,000.
Although the mid-range units are more capable, the cheaper entry-level models are built well and offer enough features to last a beginner long into their progression. There's never really been a better time to learn to DJ!
A typical professional DJ booth will be equipped with a stand-alone mixer and at least two media players, most typically Pioneer DJ CDJ units. This type of setup can easily be in excess of £6,000.
The premium cost of professional equipment is why many DJs will stick to using a controller or all-in-one unit. Currently, the most popular all-in-ones are the Pioneer DJ XDJ-XZ and XDJ-RX3. 
Speakers range in cost from £150 for a pair of capable studio monitors right through to £1,000s for a PA system. 
A decent pair of headphones can cost as little as £20. The average cost of a professional pair is around £100, with the cost rising to around £300 for luxury extras like extreme lightweight and sweat resistance.
Performance DJ software is free to beginners using 'lite' or stripped-back versions designed to give them a try, so entry to DJing can be free if you are willing to do it exclusively on a smart device. 
Moving on to the professional tiers will often incur a monthly or yearly fee, around £9.99 per month. A few providers also offer a one-off payment option.
Some DJ equipment unlocks professional software meaning there is no cost so long as that piece of equipment is being used. This is known as hardware unlocking.
---
Where do DJs get their music from?
There are several ways to get hold of DJ tracks but downloading is currently the most popular method.
A DJ's music will usually be in a digital format such as MP3 and is stored on their computer in a music library, which is often hosted by their performance software of choice.
Specialist DJ music websites 
Specialist sites host music exclusively for DJs to download. A well-known example is Beatport, known for all things dance music.
With most download sites, each track is paid for individually. The cost varies depending on file quality. 
For most DJs, the cheaper MP3 or AAC files are suitable. However, DJs who play on massive sound systems may want to consider the more expensive lossless audio options. 
Some sites offer cheaper rates if you become a member, usually in the form of a monthly fee.
DJ Pools
A popular way for DJs to bulk download is to join a DJ pool. ​​These are online databases of specialist DJ music that users have unlimited access to downloads from for a monthly or quarterly fee.
This is by far the best value proposition for DJs who download a lot, as the cost of membership is often surpassed after getting around 30 tracks from a specialist site!
The cost of a subscription to a DJ pool works out to around £30 per month.  
Streaming
Streaming music has become an established practice for the general public, and DJs are getting in on the action now, too! 
There are currently four major streaming providers that integrate with DJ software. 
Beatport Streaming and Beatsource specialise in music for DJs with extended edits of tracks for mixing and DJ tools such as acapellas and re-edits of chart music. Soundcloud Go+ and Tidal offer a more mainstream music selection.
For more on streaming, see our comprehensive guide Best Streaming Services For DJs 2022.
Vinyl and CD 
Many purist DJs specialise in playing older, physical music formats such as vinyl and CD. These are mainly picked up in record shops but can be bought online.
There's something to be said about the social element of digging out music this way. DJs of older generations may find this is the only method they are comfortable with. Physical formats are currently experiencing a revival, and DJs of all generations are still enjoying performing this way worldwide.
Promos
There are free options for sourcing gems and dancefloor weapons open to DJs who are happy to do a little scouting! Time-limited download links on sites such as SoundCloud prove very popular, and once a DJ has progressed in their career, subscribing to a promotional platform like InFlyte can get them access to plenty of new promotional material for zero cost!
Check out our guide Where To Download DJ Music In 2022 for a more detailed look.
Get started downloading free music today by checking out our Crossfader music pack.
---
Is DJing hard to learn?
DJing is meant to be fun, and learning to do it should be no different!
As with most skills in life, DJing requires a lot of practice to master. That said, DJs benefit from great tools and aids to automate certain aspects and make the process easier. Some people will find DJing easier to pick up than others, but it's important to note that we have never come across anybody who hasn't eventually been able to mix after some practice.
---
How long does it take to learn to DJ?
Learning to DJ to a competent level for putting mixes together can be achieved fairly swiftly with some people picking it up quicker than others. 
Today's technology certainly affords beginners a lot of shortcuts and assistance, which can be encouraging for seeing quick results. However, any skill worth having takes time to master and hone so practice is always going to be the prescribed homework for every student of DJing. 
Using tools such as SYNC and Quantize can allow a musically-minded beginner to perform basic mixes within minutes. Learning hard skills such as beatmatching by ear takes dedication and will, but most people learn the basics within a matter of hours.
Why not try DJing for free? Click here to take a free lesson using applications that are free to download!
---
How and where can I learn to DJ?
At one time there was very little tuition available, so learning to DJ was limited to those lucky enough to know a DJ. These days aspiring DJs can learn locally, online or with the use of free online videos. Google is a great tool to find a local DJ school for one-on-one tuition.
Alternatively, to learn in the comfort of your own home, you can learn online. Obviously, being an online DJ school ourselves, we would love to have you join our community! 
Would you like to be mixing by the end of the day? We can make that happen with our Complete DJ Package! 
It gives you everything you need for lifelong learning and literally guarantees you success in your DJ journey or your money back! 
No subscription is needed, and there are no yearly tuition fees! Just a single one-off payment.
Finally, if you don't feel you are at the stage of spending money on DJ lessons, you can find amazing tutorials for free on platforms such as YouTube! If you want to try getting started DJing on a laptop for free, we have a free six-part tutorial that will guide you through the basics. You won't need any equipment and you won't even need music as we have a free music pack in the download below!

---