Rekordbox DJ
Rekordbox launched way back in 2012, is a DJ software designed to export music, ready to play on Pioneer CDJ's. Since it's humble beginnings, Rekordbox has evolved into a fully-fledged performance software that's now considered one of the very best. The software has two main modes; export and performance. These share one central library, meaning DJ's can start on entry-level controllers and progress through to main stage CDJ players.
Importing Music Into Rekordbox DJ
Adding your music into the Rekordbox software is straight forward. Navigate to File>Import, and you can then choose between Track, Folder or Playlist.
Import Track
Track mode will allow the user to import individual tracks into the library. You can select more than one track by highlighting them, and all of the major file formats are supported (MP3, WAV, AAC, FLAC, ALAC, AIFF).
Import Folder
If you store parts of your music collection in folders, you can speed up the process by choosing the Import Folder option. Rekordbox will automatically scan the selected folder and all it's contents, before importing all supported files. This tool is particularly useful for importing extensive music collections, such as the whole "music" folder on your hard drive.
Import Playlist
This tool imports M3U and PLS files to the software. These formats are commonly used when exporting playlists from iTunes or Winamp. When importing a playlist, Rekordbox will import all the tracks into the library while also creating a playlist with the same name.
Drag & Drop
Alternatively, you can drag tracks straight from your computers file browser into the library or an empty deck to import it. Dragging folders straight into the library or playlist panel will also perform the same action.
Inflyte
Inflyte is the worlds largest music promo delivery service and is used by most major music labels around the globe to deliver music to their DJ's. With Rekordbox 6 you can link your Inflyte account, so all your tracks show in the library, you can then chose which ones to import or enable automatic sync to include every song. A brilliant feature for professional DJ's who rely on promo for their music collection.
Streaming inside Rekordbox DJ
Rekordbox DJ supports streaming from Soundcloud GO and Beatport Link. Streaming is only available in performance mode and disables the internal recording feature for legal reasons. To learn more about streaming inside DJ software, read our dedicated guide.
Soundcloud GO
Soundcloud GO users can stream over 135 million songs in quality up to 256kps AAC. Users can also view playlists and liked songs inside the Rekordbox software. You must remain online at all times when playing songs from Soundcloud with no offline storage available.
Beatport Link
Beatport Link offers various plans to users. Their higher-tier plans allow offline playback of downloaded tracks.till locked to performance mode only so you can't export these downloaded tracks for use on a CDJ or XDJ player. 
Library Management in Rekordbox DJ 
Inside the rekordbox library, you can organise your music in a variety of ways. The user can decide what part of the track's metadata (Artist, Key, BPM, etc.) to display inside the library. A simple right-click on the column header displays all the available options. For example, you can organise your library in descending order of BPM.
Playlists
Rekordbox uses playlists to group tracks together, these can be manually created or automatically created using a feature called smart playlists.
Smart playlists allow the user to give the software a set of rules. For example "All songs with a BPM between 70-80". The software will then scan the whole library upon launch and add any tracks found inside the library to the playlist. This tool can save users a lot of time and is very powerful indeed.
MyTag
The My Tag system inside rekordbox allows DJ's to apply custom tags to tracks quickly. These can be from any of the preset's included or custom created. The user can then search by tag to immediately display a list of relevant tracks while performing.
Related Tracks
Related tracks is a fantastic feature unique to Rekordbox. While performing in rekordbox, the software will suggest tracks to play next, based on the current master deck. The tracks recommended are found by matching attributes such as key, bpm and energy level. DJ's can use the Match feature inside rekordbox to manually force the software to suggest a track should the other be playing.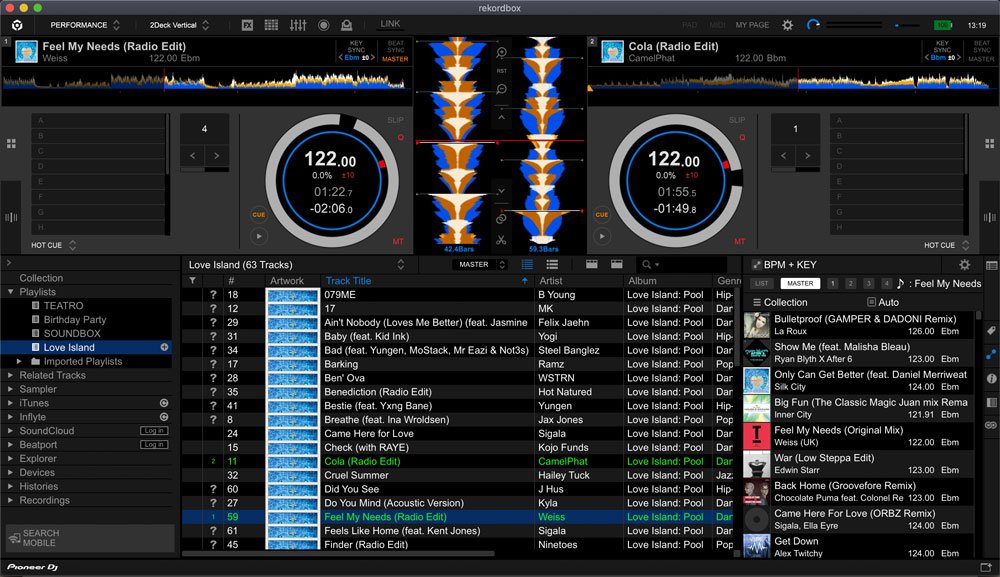 Cloud Library Sync
New to Rekordbox 6 and only available to users of the Creative Subscription plan, this feature allows tracks metadata (Beat grid, BPM, Hot Cues etc) to be shared between 4 devices, including computers and mobile applications.
Having your library in the cloud allows for seamless backups and the ability to download a track on one system (home desktop), prepared on a second (iPhone) and played on the third (DJ Laptop). The system requires a personal dropbox to also be synced between the devices.
Equipment Supported by Rekordbox DJ
Rekordbox, unfortunately, is limited solely to use with hardware manufactured by Pioneer DJ. That said, Pioneer DJ is widely considered to produce some of the best equipment in the industry. As such, this isn't a complete deal-breaker, it may just mean that you pay a premium over some of their cheaper rivals. Whilst licence holders for Rekordbox 5 can use any compatible controller, Rekordbox 6 users will have to pay for the Core subscription plan should their hardware not unlock the software.
Controllers
You can use 23 controllers with Rekordbox. These vary from the entry-level £120 DDJ-200 model through to the flagship £1299 DDJ-1000. 
You will need the core subscription plan to unlock Rekordbox 6 unless you are a user of the DDJ-RB/RR/RX/RZ/RZX or DDJ-200/400/800/1000.
Mixers
Pioneer DJ create some amazing mixers, and almost every model with a USB soundcard is compatible. That's 14 mixers in total. You will need a method of controlling the decks though, such as turntables or CDJ's used in HID mode.
You will need the core subscription plan to unlock Rekordbox 6 unless you are a user of the DJM-250MK2/450/750MK2/V10.
Soundcards
Pioneer DJ only create one soundcard, the Interface 2.
This sound card is compatible in all versions of Rekordbox and will unlock DVS and Rekordbox 6 free of charge.
All In One
The popularity of the first XDJ-RX all in one unit spawned a new whole category. All six of Pioneer's all in one units are compatible with Rekordbox, including the new flagship XDJ-XZ model.
Note only the XDJ-RR, RX2 and XZ will unlock Rekordbox 6 free of charge, you will need a Core subscription plan to unlock the software for use with the older XDJ-RX, AERO and R1.
CDJs
Designed to be used with the USB sticks that Rekordbox exports, CDJ's can also be used to control Rekordbox too. Twelve models in total can be used with Rekordbox, read this guide to learn how to set them up.
Currently no CDJ player unlocks Rekordbox 6 free of charge, however the new iOS application can be used to connect to CDJ's for free.
Performance Pads
The DDJ XP1 and XP2 performance pad controllers are both fully compatible in Rekordbox 5 and 6. They also both unlock Rekordbox 6 free of charge!
This is important to note as you can use the XP1/2 to unlock the software for use with other hardware that would otherwise require a subscription plan!
Performance features in Rekordbox DJ
With four virtual decks, Rekordbox offers DJ's a whole suite of performance features to add creativity and flair to any DJ set. 
Effects
Well known for amazing sounding effects on stand-alone mixers, Pioneer DJ has loaded Rekordbox with 22 beat effects and six colour effects. These can be activated via the dedicated effects banks or by the performance pads.
Performance Pads
The performance pads also activate and control various performance modes. These include Hot Cue, Roll, Sampler, Cue Loop, Slicer Loop, Keyboard Mode and Beat Jump. These can be controlled either by hardware or via the on-screen buttons with a mouse or keyboard. 
MIDI Mapping
Rekordbox also allows users to create custom keyboard shortcuts or midi map controls, should you wish to add additional hardware or change your controller's layout. 
DJ Tools
Rekordbox includes a quantize feature that will lock the DJ's button presses to the beat grid. This tool can be changed from 1 beat down to 1/16 of a beat to help keep the DJ in time when pressing a hot cue, loop or reverse.  Sync is also available to the DJ on all four decks with dedicated controls to select which deck acts as the master. 
Ableton Link
Ableton Link is a system that synchronizes musical beat, tempo, and phase across multiple applications running on one or more devices. Rekordbox can sync it's playing decks with an Ableton project as long as its being run on a computer inside the same network.
At the time of writing, there are over 190 applications that can sync with Ableton Link, including other DJ applications such as Serato, Virtual DJ and Traktor.
Expansion Packs
Video
Rekordbox Video bring videos into your performances. You can manage video and image files in rekordbox, then play and mix with inbuilt effects and transitions live! The expansion pack is free for all to use however a watermark will be displayed on the output window unless you subscribe to the Creative plan.
Lyric
Lyric is an expansion that combines with video to allow the lyrics of songs to be shown in your video performances. Just like Rekordbox Video, this is free for all users to try but limited to 130 characters. To unlock the full use of the plug in, users must be subscribed to the Creative plan.
DVS
DVS (Digital Vinyl System) allows users to control the virtual decks with external timecode, typically from a Vinyl or CD source. The expansion is unlocked with hardware unlock units for free. Core and Creative subscriptions will also unlock this expansion pack.
RMX
The RMX expansion enables users to use nine scene effects lifted straight from the popular RMX hardware effects unit! This expansion pack is only unlocked by the Creative subscription.
iOS Application
The Rekordbox mobile application allows users to sync their library wirelessly and prepare music on the fly. Featuring two virtual decks, the interface is clean and intuitive. Users can sync their libraries with a single computer over the local network for free, or use Cloud Sync to sync up to 4 devices remotely. Cloud Sync is only available on the Creative Subscription plan. 
The application can also be connected to CDJ and XDJ players to enable playback of prepared media. Much like a deck connected to Rekordbox performance mode via HID, the application displays the waveforms of the connected decks.
The app can be connected by the USB B (HID) port or via Ethernet. However, due to Apple's lack of ports, an adaptor will more than likely be needed. The application is free of charge and supports devices running iOS 11,12 or 13.
Subscription Plans
FREE – £0 PER MONTH
The free version of Rekordbox will still enable users to manage their library and export it to USB. Performance mode is active and free to use with your mouse. You can also use Rekordbox Video and Lyric, all be it with limited controls and watermarks. If you would like to use a controller you will need either need a "hardware unlock" controller or pay for the Core Plan.
CORE- £9.99 PER MONTH (

£6.99

 PER MONTH – INTRODUCTORY OFFER – 

OFFER ENDS JULY 13, 2020)
The core subscription pack enables performance mode to be used with controllers and devices that don't automatically unlock Rekordbox. The cloud sync is unavailable, and you can only local sync with one other mobile device. The core plan unlocks the DVS expansion pack but not the sequencer or RMX. Rekordbox video and lyric remain activated but limited as in the free version.
CREATIVE – £14.99 PER MONTH 
(

£9.99

 PER MONTH – INTRODUCTORY OFFER – 

OFFER ENDS JULY 13, 2020)
The Creative plan unlocks cloud syncing, to enable the library to be shared remotely over four devices. The Creative Plan also unlocks Sample Sequencer, RMX effects plus full control of Video and Lyric.
Which Hardware Unlocks Rekordbox 6 for free?
Rekordbox will unlock to the "Core plan" level of features free of charge when ever you connect:
DJM-V10
DDJ-1000/800/400/200
DDJ-RZX/RZ/RX/RR/RB/WeGO4
DDJ-XP1/XP2
XDJ-XZ/RX2/RR
DJM-750MK2/450/250MK2
INTERFACE 2
Any device not listed will either have to be connected alongside a compatible unit (DDJ XP1 for example) or the user will require a CORE or CREATIVE plan to unlock Rekordbox 6. Users of the Rekordbox 5 who have unlocked it with a licence code can continue to use the older version if they wish, it is still being supported by Pioneer DJ.
Conclusion
Rekordbox is robust, organised and reliable. It's a brilliant piece of DJ software that DJ's can use from a bedroom to a festival stage. Pioneer DJ's unique dominance on the professional hardware market has allowed Rekordbox to become a must on most DJ's laptops and for good reason too. The library management is class-leading with better organisation, and more powerful suggestion tools than all of it's rivals. Being able to sync your library and manage it on other devices including mobile is a power users dream!
The great-sounding effects and ability to use almost all of Pioneer DJ's fantastic hardware lends Rekordbox to be the professional's software of choice. It is a shame that the more expensive mixers and CDJ's don't unlock the software however!
The subscription model isn't for everybody but with the majority of popular Pioneer DJ hardware unlocking the software for free, we don't see many users being affected. The owners of the older Rekordbox 5 licence can continue to use that software as supported will be continued.
If you're a beginner looking for a platform to begin with, you may find the hardware choices limited and the software is confusing at times, especially in the settings. However, if you desire a software that's capable of staying with you to the very peaks of your career, Rekordbox is a fantastic choice in today's market!
Learn to DJ with Rekordbox
Our online DJ courses for Rekordbox DJ will help you go from a beginner to advanced DJ! Learn everything from fundamental mixing techniques, EQ control and transitions to advanced sampling, sequencing and mash-up mixing.
Getting Ready To Gig!
Most DJ's end goal is to play in bars, clubs, or festival stages. The one thing all these places have in common is Pioneer DJ Equipment. Nearly all clubs and venues will have a set of CDJs and knowing your way around them is essential to becoming a confident club DJ.
If you're used to playing with a controller in your bedroom, moving on to a set of CDJs and a mixer can feel daunting. The buttons are in different places, they connect differently, and you may want to choose between using USB sticks or a laptop to DJ. All these things bring challenges; however, inside this course, we will arm you with the tools and techniques for stepping up to a pro DJ setup and playing quickly.
This course is for any DJ who wants to feel confident using a CDJ set-up. Perfect for those DJs making their first steps into the booth and starting their career or for seasoned DJs who think they don't know the club equipment inside out yet.