Rekordbox Stems Are Here!!
Three is the magic number for Pioneer DJ as they announce their third flagship release for early 2023. The all-new DDJ-FLX10 controller drops with a hotly anticipated, game-changing ability. 
Track Separation is Rekordbox's answer to the insanely popular Serato Stems feature debuting last year. 
Officially the successor to 2018's DDJ-1000, which exclusively ran Rekordbox, and 2019's DDJ-1000SRT, which ran Serato DJ Pro. But, this time around, one product incorporates both!
Whilst the FLX line prides itself on software flexibility, it has so far seen Serato functionally take a back seat. We've put FLX10 through its paces to see if that has changed and test how it handles separating tracks live in the mix with Track Separation and Stems!
The Flagship FLX 
The DDJ-FLX10 is a four-channel performance controller for Rekordbox and Serato DJ Pro. It has the same winning layout as the previous flagship DDJs.
Two deck sections with full-sized jog wheels, tempo sliders, comprehensive looping controls, and performance pads are wedged between a four-channel DJM-style club mixer. 
But now there are colour-coded sets of Track Separation buttons placed throughout, and Pioneer DJ has ensured their new key feature is easy to use!
DDJ-FLX10 Key updates 
Here are the main updates at a glance. Keep reading for everything you need to know about the new flagship FLX10!
Track Separation

– Splits a track into three parts, VOCALS, DRUMS and INSTRUMENTS, which can be individually muted or have effects added to any part! 

Updated Jog Wheels and Central Jog Screen displays

– With complete performance information and

four view modes

to suit the needs of any DJ 

Works with Rekordbox and Serato DJ Pro –

Both have full access to all of FLX10's features!

Mix Point Link

– Start an automated mix at a specified part of the outgoing track without the need to count it in or even press the play button

DMX output

– Controlling DMX lights now plug and play. No need for a separate interface to control a light show

Four channels –

Control four decks at once, or use two to split track parts between

Generation 3 MAGVEL crossfader

– Sharper cuts and smoother blends thanks to new fader technology

Custom colour-coded jog wheel lights

– Contextually change colour, giving instant feedback about the isolated track parts in use 

USB-C – U

pdated to the modern standard 

Six sound colour effects

– Giving DJs more scope for sculpting their mixes
Rekordbox Stems!
This device is the first Pioneer hardware to integrate the new Track Separation feature. However, this upgrade is now available across the whole of Rekordbox. If you have an older Rekordbox controller, you can use the new feature by midi-mapping it in. You can learn how to get stems on your DJ controller and download our midi mappings here.
With Track Separation, users can solo or mute the drums, vocals or other instruments in a track.
Colour-coded TRACK PART select buttons easily control this function on both decks and the mixer.
Track Separation is Rekordbox's answer to the Serato Stems feature. It performs the same task but with crucial differences.
Serato vs Rekordbox Stems (Track Separation vs Stems)
The implementation on Rekordbox centres around applying effects to the separate track elements. 
With Serato Stems, however, the focus is more on achieving a clean sound when dropping elements out of a track.
Both platforms share a remarkable ability to create mash-ups with on-the-fly acapellas and instrumentals.
We are impressed that Serato DJ Pro maps perfectly to FLX10, so the Track Separation buttons also activate Serato Stems as if they were native. Great for DJs who want to jump between the platforms.
Which Stems Implementation Sounds Best?
Comparing the two, Serato Stems is more flexible with elements that can be dropped out of a track as it has melody and bassline stems. Track Separation groups these together as just Instruments.
We have found that Serato Stems sounds cleaner than Rekordbox's. 
If you want to use all four of Serato's Stems, you must swap a performance pad mode (either Loop Roll or Sampler), as there are only three hardware Track Separation buttons.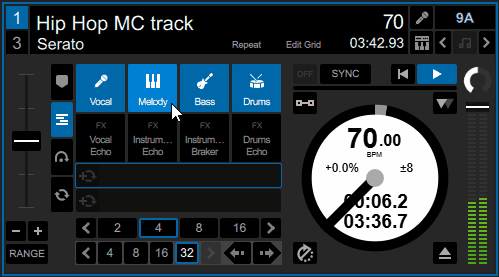 Part ISO EQ Control
The EQ controls on the mixer can be used to precisely adjust the volume of the Track Parts or Stems.
By holding SHIFT and pressing one of the CUE buttons underneath a channel strip, users can control the volume levels of the track parts with the mixer's EQ pots.
When the CUE button flashes to indicate this mode is active, the EQ pots will do the following:
The

low-frequency pot controls

the

volume of the drums

.

The

mid-frequency pot controls

the

volume of the vocals

.

The

high-frequency pot controls

the

volume of all other instruments in the track.
This is the default setting, but the pots can be changed to control the volume of any stem of choice.
But… What About My CPU?
Track Separation requires a powerful computer to perform efficiently. However, Rekordbox has flexible settings to allow for the varying capabilities of different computers. 
You'll be able to analyse more music at once with a powerful processor and a good amount of RAM, so using Track Separation on a more powerful computer will enhance your performance; however, Rekordbox has included a handy option to reduce CPU load if you choose to.
Part Instant Doubles
Part Instant Doubles is an insane feature. The ability to double up just part of a track simply with a button is an excellent resource for remixing on the fly. Now DJs can manipulate isolated elements from within a song for ultimate control over sculpting their sound. 
To do this, double-tap on the element you want to be doubled from the deck section's ACTIVE PART buttons. 
As each jog wheel on FLX10 controls two layers of audio, that part then doubles into its deck's secondary layer. Depending on your setting preference, it may also be pushed over to the other deck. 
In Serato, these buttons can only split Stems across the decks rather than between a deck's dual layers. We hope this gets ironed out in a future update, as splitting tracks works much better across dual layers.
Part Instant Doubles is fantastic for quickly splitting a track across two channels to fade, chop or scratch an isolated element! 
Dual Mode
Putting the jog into DUAL mode means all adjustments to the jog will affect both layers at once.
This works well for those who want control over re-blending elements of a track and don't intend on cutting or scratching those elements.
See these new controller features in action in our performance mix below.
Deck Section
Each deck is dual-layered, so all four mixer channels are usable simultaneously in Rekordbox and Serato DJ Pro. The left side jog wheel controls deck layers 1 and 3, and the right side 2 and 4.
Next-Gen Jog Wheels
With their improved central displays, the all-new jog wheels help DJs see what's going on with the deck layers and the new Track Separation feature.
These full-size mechanical jogs have had a redesign. Their rims have a new texture, differentiating them from CDJs, or simply Pioneer moving in a fresh direction. 
They perform solidly as a DJ would expect of Pioneer gear and nudge well, serving muscle memory flawlessly. 
Expanded On-Jog Display
The DDJ-1000 was the first Pioneer product to introduce waveforms and performance data into the jog wheel's display. 
The FLX10 takes this further by showing multiple waveforms, zoomed waveforms and more in-depth performance data, such as Mix Point Link information. 
This makes the controller much easier to use without staring at your computer screen, allowing you to focus more on your audience and overall performance.
Display modes
There are four main modes that the displays can be put into. Each has its strengths, catering to a wide selection of DJ preferences.
Deck Info – The display shows the information about the deck, including the Overall Waveform. In Serato, there is no waveform, just the play head of the virtual deck.
Waveform – Displays two scrolling waveforms corresponding to the two main decks in the mix.
Artwork – Shows the playing track's artwork.
DJ Logo – You can upload a custom graphic or shot. Great for self-promotion!
Custom Multicoloured Jog Ring
Another handy feature is that the jog wheel rings light up different colours to indicate which other parts of the track have been isolated.
For example, if a track has had its vocal split onto a secondary deck layer, it is helpful to see the ring go green for instant visual confirmation.
The ring lights are as follows:
Blue for drums 
Green for vocals  
Red for instruments
If a mixture of parts has been isolated, then the colour will blend between the two, for example, lighting purple when drums and instruments are active.
The jog rims can also display any custom colour if preferred.
Performance Pads
Sitting just below the jog wheels are the new performance pads. They now have a colour accent rather than illuminating a solid colour, as with the older models.
Rekordbox and Serato DJ have access to 8 different pad modes, which can be remapped in preferences to be completely bespoke.
The default modes are all intuitive and will suit any style of DJ. On the whole, Serato is mapped to match what is printed onto the faceplate, with just the secondary PAD FX function being ROLL instead.
Pad Info
Holding either the left or right PAGE arrow button and selecting a PAD MODE will bring up all of that PAD MODE's parameters, such as beat length or effect name, in the central jog screen. 
This helpful information means DJs now have less need to glance at the computer screen.
All of our intermediate Rekordbox and Serato courses are packed with creative ways to get maximum use out of the performance pads on your chosen piece of equipment! 
Sync Rate
Another mixing tool in the deck section is the new SYNC RATE, accessed by holding BEAT SYNC down. 
This allows two tracks to beat sync by going to either half or double the time of the master track's BPM. This is useful when mixing two drastically different BPMs. 
Halving the BPM is always possible, but doubling it will only happen if your tempo range is set wide enough. 
Mix Point Link 
Another new feature to Rekordbox that makes its hardware debut on FLX10 is Mix Point Link. Pioneer DJ has added this interesting new feature to assist with making professional-sounding mash-ups and live remixes; It frees up users' hands to get busy tweaking effects and volume levels instead of counting in beats and pressing the PLAY button.
The Mix Point Link concept is designed to put DJs into more of a producer's role by getting them to think about their tunes from a structural point of view. 
They first need to set mix points within two tracks that they want to mix. These points are then read by Rekordbox and linked to triggering a mix automatically. 
An incoming track now kicks in at the perfect moment, from the ideal mixing point within the track, without pressing PLAY!
For example, you might be able to set an incoming track to start from the beginning of its melody when the vocal of the outgoing track ends to ensure a slick handover.  
Being a Rekordbox exclusive, the Mix Point Link buttons alternatively control the key of the playing track in Serato DJ.
With all of the new stems and remixing capabilities, the theory behind Mix Point Link is understandable. 
However, in practice, it requires a lot of preparation to be helpful in the heat of a mix. Therefore many DJs would feel more comfortable simply hitting play themselves. 
This feature will likely benefit routine DJs who want to script their mixes heavily.
Four-Channel Mixer
The central club mixer is a typical Pioneer DJ layout, which is a credit to the controller. It has four nicely weighted up faders with three-band EQ sitting above. 
FX Part Select
The new FX PART SELECT buttons are the most exciting addition to the mixer and the controller overall, as the sound colour and beat effects can now be sent to individual stem parts! 
The ability to affect isolated track parts makes applying studio-style tweaks to tracks effortless. It is now possible to throw a light reverb onto a vocal to give it some lift. Or add a half-beat delay to a drum to double the track's BPM.
This is a powerful new way to work with and manipulate music. All effects and FX PART selections work across Rekordbox and Serato DJ Pro!
Midi Mapping Rekordbox Stems
The FX SELECT PART buttons are midi-mappable to older Rekordbox controllers. Get the Rekordbox Stems midi mappings for the DDJ-400, DDJ-800, DDJ-1000, DDJ-FLX4 and DDJ-FLX6/FLX6GT here.
Sound Colour Effects
The Sound Colour FX buttons are on the left side of the mixer section. There are six laid out in two vertical rows, a style all Pioneer DJ equipment has adopted this year.
The effects are SPACE, DUB ECHO, CRUSH, PITCH, NOISE and FILTER. As with the DDJ-1000, there is no hardware parameter control, so they must be set in the software. This is a shame but not a real deal-breaker, as one setting usually applies well to all the effects.
Beat Effects
There are 14 hardware BEAT EFFECTS on the mixer's right side. 
The effects do not have EQ control. To compensate for this, the BEAT EFFECTS incorporate pre-EQ'd option such as LOW CUT ECHO.
A stand-out effect is an all-new STRETCH. This time-stretches the sound of a track or its isolated parts, pulling the sound further and further as the wetness dial turns clockwise. This works particularly well with isolated drums. 
Other sound effects can be accessed with the fully comprehensive Performance Pads using the PAD FX.
EQ
The EQ has the classic –26db cut in Serato DJ rather than going full-kill, which is the preferred mode for bringing in elements of a track from dead silence. This was the same on the DDJ-1000SRT. However, in Rekordbox, you can choose whether to have -26db or total kill in the settings.
New MAGVEL Crossfader
Faders are a crucial part of any mixer. MAGVEL are some of the best around, no question! FLX10's MAGVEL crossfader has now been updated to perform better than before. 
Inside are four sensor points instead of the two found in the previous generation. This means higher cutting, mixing and blending accuracy as the slightest of movements is registered. 
We've found it performs brilliantly. Even serious open-format and hip-hop scratch DJs should find that it works well!
Mic, Sampler, Master and Booth Controls
The mixer includes two microphone gain controls with a shared two-band EQ and talk-over toggle. There's also the sampler's volume pot and cue button. The controller's master and booth volumes are on two identical pots sitting neatly in a line above the master volume meter.
DMX output for Rekordbox Lighting function 
These days, sounding good is only part of the battle. It pays to look good, too! What better way to do this than by putting on an impressive light show?   
Now it's easier than ever to integrate excellent lighting into your performance, no matter how big or intimate your gigs are.
Rekordbox includes a light show mode called Lighting. Plug and play with DMX-compatible equipment to create custom lighting effects within Rekordbox. Or get the software to automatically adapt the colour and movement of the lights to progress with the music.
The convenience factor is off the charts and may be enough to persuade some DJs who otherwise wouldn't bother having a light show. 
I/O 
All high-end controller connections are included on the rear of FLX10. 
Additional Decks
Four stereo RCA inserts exist for line-level equipment, such as CDJs, to plug into the mixer. Two of those inserts include a phono pre-amp for turntables. For DJs who want to use DVS, this is not included free with either Rekordbox or Serato, so users must pay for the upgrade.
Speakers 
Audio is pumped out via two master feeds. Professional-grade balanced XLR and domestic-grade RCA. It also has a booth feed on TRS jacks, which aligns with other professional equipment. 
DJ laptops
DJs who want to perform back-to-back can plug in simultaneously as there are two modern USB-C ports, replacing the previously found USB-B.
Mics
There are two mic jacks for public announcements, one an XLR/ TRS combo and the other a single TRS jack. This represents all the flexibility required for a working DJ!
Lights
Also favouring working DJs is the all-new inclusion of a DMX XLR output for hooking in lighting equipment. The first of its kind on a Pioneer controller! 
Power
An external 12V power adapter powers the unit. We'd rather see a built-in IEC connector for convenience, but it's understandable why Pioneer has opted not to include this. The controller needs to be as light as possible.
The first accurate multi-platform controller
FLX10 is packed to the brim and full of features. It has everything it needs to be a massive success and is the realisation of what an FLX controller should be. Powerful with its abilities and flexible in its approach to DJ software.
With the FLX range, the line between producer and DJ continues to shrink. DJs now have the ultimate tools to transition between any genre. And FLX10 is the hardware to introduce the ability to create studio-sounding edits and remixes live in the mix!
The Track Separation hardware controls are fantastic and will probably be the deciding factor for most. Applying effects to isolated track parts is this controller's biggest strength. However, the isolation of the track parts themselves needs some work to sound cleaner in Rekordbox. 
Conversely, vocal isolation in Serato has been upgraded to coincide with this launch and Stems loading time has been improved. For this reason, we've found that the unit performs better with Serato DJ.
Another selling point, mainly for mobile DJs, is the introduction of DMX lighting control, offering great convenience to those looking to streamline their equipment.
FLX10 is a real all-rounder, sure to win over most DJs. It is a solid progression from its predecessors, but its ultimate legacy lies in being the first controller to incorporate Rekordbox and Serato DJ to maximum effect! 
Check out our full video review for an in-depth breakdown of this groundbreaking new device.
Get a handle on Rekordbox and Serato DJ Pro with our specialist courses. Learn on your schedule and with all the convenience of desktop or mobile via our iOS app.
Or to jumpstart your DJ career and achieve guaranteed results, check out Complete DJ Package!