If you are in the market for your first DJ controller, you may be considering the popular and affordable DDJs from Pioneer DJ, such as the black and orange FLX4 and REV1, both of which were released in 2022.
While they have many similar features, they also have some differences, and it can be difficult to decide which is the best option for you.
This article will compare their key features, highlight their pros and cons, and help you determine which controller fits your needs.
Video Comparison
Price: £279.00
Pros: Club standard layout with automatic mixing modes and easy-to-use smart FX, all with Bluetooth connectivity for DJing with mobile devices.
Cons: Serato DJ integration is missing features.
Overview: This controller has just dropped to convince casual would-be DJs to get in the mix! But it's not just beginners who are showing interest; DJs of all skill levels are snapping it up due to its incredible versatility!
The FLX4 replaces one of the most popular controllers in Pioneer DJ's history, the DDJ-400, so all eyes are on it. But it definitely lives up to expectations!
It inherits the 400's club-style layout, and ease of use and has everything a beginner needs to get going and learn mixing habits that transfer well onto professional equipment.
The unit features two decks with a mixer between them. The decks each feature PLAY and CUE buttons, plus all the sliders, buttons and wheels needed for mixing your music, all laid out in the same way as on flagship CDJs. A layout found in club booths the world over.
Each deck has eight performance pads, an excellent resource for beginners as they allow one-shot use of things like effects, cue points and loop rolls. 
The jog wheels are a decent 132 mm in size, are good for scratching and spin-backs sound as wild as they do on pirate radio! Their only drawback is that they feel flimsy but not to a level that we didn't expect at this price point. 
The mixer section's layout also mirrors a club-standard installation; this includes the way users activate BEAT EFFECTS with a big ON/OFF button on the right-hand side of the mixer.
Whilst all these features have come directly from the 400, this new unit paces ahead by making DJing accessible to everyone with several feature upgrades and additions.
This includes two major world-exclusive functions allowing DJs to easily pull off some great-sounding tricks, like making huge genre jumps in the mix, AUTOMATICALLY! 
Smart Fader & FX
Smart Fader, makes all users sound professional in the mix. It is activated with a single button press and then a fader movement. The result is an impressively polished transition with volume, bass and tempo all smoothly taken care of, every time! Great for diving into DJing and having fun with no prior technical knowledge. 
If that wasn't enough to make a novice sound pro, the sound colour effects have been beefed up and bunched into impressive and great sounding combinations with Smart Colour FX. There are eight to choose from! All are activated with the press of a dedicated button and the twist of a pot. 
These features are great for beginners as they take away the need to learn all of the technicalities of DJing all at once. This means you can concentrate on track selection or the length of a blend without focusing on beat matching and setting the EQs. 
Rekordbox iOS/Android App
Users can now use smartphones and tablets instead of computers to DJ, thanks to the early 2023 Rekordbox app update. Bluetooth connectivity means devices can connect to the controller wirelessly, seriously upping the convenience factor. 
Rekordbox's Performance Mode is unlocked with this device, so most of its features are free. 
If Rekordbox isn't for you, Serato DJ is also supported. However, at this time, not all of the Smart features are working with it, and some features from Serato are not fully implemented yet.
Connectivity
Connections are simple. Red and white RCAs hook in speakers, and a mic can be plugged in, too. The unit is powered by USB-C and has a second socket to send power to a smartphone or tablet.
Impressively, its sound card can record a microphone input along with the master audio feed. This extends to being able to live stream the microphone audio. Unheard of at this price point and incredibly useful for DJs wanting to stream their sets with live commentary without the need for additional gear!
The unit is more than capable of satisfying DJs of all skill levels and has found its way into plenty of DJ riders as a secondary unit or for 'on-the-road' purposes thanks to its capabilities being jam-packed into an easy-to-transport and light device. 
If you want to learn to make the most of your controller, our Rekordbox course covers absolutely everything a beginner needs to know, including tutorials on the FLX4!
Price: £259.00
Pros: Battle-style layout with DJM-S-style mixer, paddle-activated effects, larger jog wheels for accurate scratching.
Cons: Older-style USB-B connection; Serato DJ Pro not unlocked with the device.
Overview: The first ever entry-level controller purpose-built for open-format and battle DJs, the REV1 sets the gold standard for Serato DJ Lite devices. 
In early 2022, this controller launched in the shadow of its bigger brother, the REV7, Pioneer DJ's first motorised, spinning-platter controller. Together they formed a revolution in the open-format DJ scene and continue to set the benchmark for what a controller can do with the Serato DJ platform! 
The flagship REV7 offers the ultimate luxury and the newest battle DJ tech in one convenient controller. It is two mini turntables and a DJM-S7 mixer, a dream combo for many turntablists and scratch DJs in an easy-to-move device! 
The REV1's philosophy, however, is to bring all the fundamental turntablist essentials and offer them cost-effectively to the beginner market! 
With generously sized 154mm jog wheels, these are 22mm bigger than those on the FLX4, indicating their primary focus: scratching.
To host the bigger jogs, the unit sports a broader frame than others in its price bracket, including the FLX4. However, this means its height is also shorter.
Travelling with it is still manageable, though, as even with its wider-than-usual dimensions, it easily sits in most rucksacks and has the same featherlight weight as the FLX4.
This new longer shape suits the controller perfectly as the mixer section takes on the ready-to-go battle style found throughout Pioneer's DJM-S range of battle mixers. 
Layout
The mixing pots are shuffled around to make the mixer more compact. A design decision that is found on most DJM-S mixers as it allows plenty of space around the crossfader and upfaders, which is crucial for battle-style DJing.
The deck sections are uncluttered to make space for larger jogs. They feature a PLAY button plus a mini-CUE button, indicating that it is a beginner device. Seasoned open-format and battle DJs typically wouldn't use a CUE button. 
This controller is the first of its kind in placing the tempo slider horizontally at the top rather than vertically to the side, which is in line with a turntable that has been put into battle position.
Paddle FX
Effects are triggered with levers that can lock in place or spring back to the off position after being pressed. This is in place of the club-standard ON/OFF button on the FLX4. It comes down to personal preference, which works better, but the effect levers offer a quicker-fire way of engaging the effects. 
Paid Upgrade
Users will need to pay to take full advantage of Serato DJ's features, as the Pro tier is not unlocked with this device. This means that even though the controller hosts buttons built for pro features, such as toggling control between decks 1 and 2 or 3 and 4, they are not accessible with the free Serato DJ Lite that ships with the device.
Connection ports are the same as on the FLX4, apart from the USB. Here you'll find 1x USB-B for connection to a laptop instead of 2x USB-C.
Even though the unit has the older style USB, it still allows recording or streaming of the microphone feed. A brilliant bonus for DJs wanting to live-stream without needing any extra kit just for the mic feed!
If you feel this is the controller for you, our Serato beginner's course is a great choice to get you confidently performing with this device at a pace that suits you!
And the winner is…
Ultimately, it comes down to how you want to DJ and your performance style. Each has a very different type of beginner in mind, and both are top of their game for delivering the perfect blend of value and features to their individual markets. 
The FLX4 is a wide-reaching unit designed to appeal to anyone who has given DJing a thought. Its conventional build suits most dance genre DJs, including house, disco and drum n' bass. Its simple but effective design bodes well with DJs of all skill levels, and its club-standard layout appeals to those who want to take things a bit more seriously.
And for those who don't, no problem! It connects to everything, so if you want nothing more than to hook it up to your iPhone for a bit of a vibe every now and then, you're sorted! Carry it off at a whim to any house party, gathering or exotic location thanks to its mobile connectivity and software support for on-the-go use!
Plus, you're guaranteed to sound great in the mix with the automatic mixing features, which have everyone impressed.
Suppose you want a product that allows plenty of flexibility. In that case, the FLX4 lives up to its name by allowing beginners to explore many options, including trying Serato DJ instead of Rekordbox.
What about the REV1?
The REV1 targets a specific group of DJs and offers them an affordable way to enter the battle scene.
Unlike previous options, which required a large investment in turntables and a battle mixer or the purchase of a premium controller costing over £1,000, the REV1 allows DJs to get started without breaking the bank. It has successfully established itself in a niche market and may inspire more competition in the entry-level battle scene.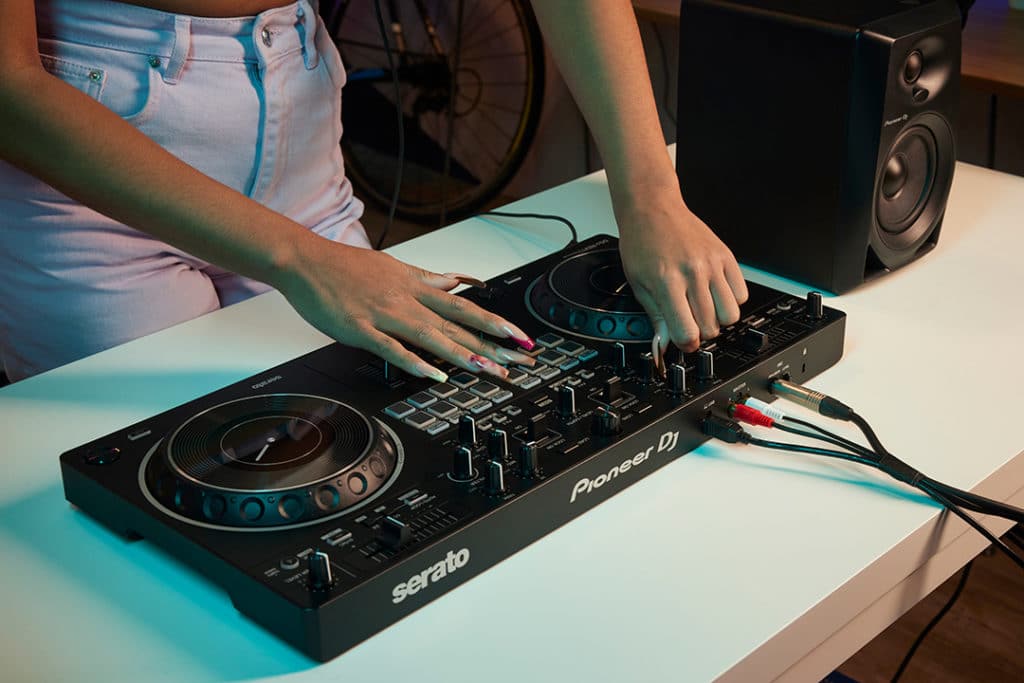 If you have your heart set on becoming an open-format or battle DJ, there's no better choice than the REV1!
Still, trying to decide which is right for you? It's worth noting that the FLX4 is so universal in its approach that it would satisfy not only aspiring club DJs and casual users but also open-format DJs. 
The same cannot be said the other way around, though. Casual DJs generally won't find the REV1 suitable for their needs.
| | | |
| --- | --- | --- |
| Device: | DDJ-FLX4 | DDJ-REV1 |
| Price: | £279 | £259 |
| Controller Layout Style: | Club | Battle |
| Tempo Slider Layout: | Vertical | Horizontal |
| Jog Wheel Size: | 132mm | 154mm |
| DJ Platform: | Rekordbox/Serato DJ | Serato DJ |
| Supports Mobile Devices: | Yes | No |
| FX Trigger: | Club-style ON/OFF button/ Performance Pads | Battle-style Levers |
| Loop control: | CDJ-style | Battle Mixer-style |
| Number of decks: | 2 | 4 (Decks 3/4 switched to with a button) |
| I/O: | USB-C x 2; RCA; TRS Mic | USB-B x 1; RCA; TRS Mic |
| Bluetooth: | Yes | No |
| Mic feed stream/ record: | Yes | Yes |
Whatever your choice, our beginner courses walk you through all you need to know for success in your DJ journey. From hooking up your device to how to source and prepare your music right through to performing some great sounding sets and routines!