Export Mode in Rekordbox
The 3 Step Tutorial
Import
Organise & Prepare
Export
Pioneer's software Rekordbox allows a DJ to analyse, prepare, and export music to USB or SD card ready to be played on the majority of Pioneers stand-alone DJ players. Including the XDJ RX2, XDJ 1000's, XDJ 700, CDJ 2000 Nexus, CDJ 2000NXS2's amongst many more.
Without Rekordbox, the DJ equipment doesn't show vital information, such as the key, BPM or waveforms of each file. Rekordbox is ideal for making the most out of Pioneer's CDJ & XDJ range.
Rekordbox USB Setup – Video Tutorial
We have broken down the basics of the software in this video tutorial. There are a few different ways you can physically get the music onto your preferred device, however here is the quickest and most convenient.
Rekordbox To USB – Export Mode Instructions
Step 1 – Import
To import your music to Rekordbox navigate to File> Import > Import Track, Import Folder or Import Playlist.
Alternatively, drag and drop tracks directly from folders on your computer or iTunes into the Rekordbox collection.
As soon as you import the music into your collection, Rekordbox will automatically analyse the files and add the beat grid, bpm, key and other information to each file.
Tip* If you already have music organised into playlists in iTunes then you can open the iTunes tab in Rekordbox, right-click on each playlist and import to the collection that way. If you have crates in Serato/Traktor then you can drag and drop from either straight into Rekordbox.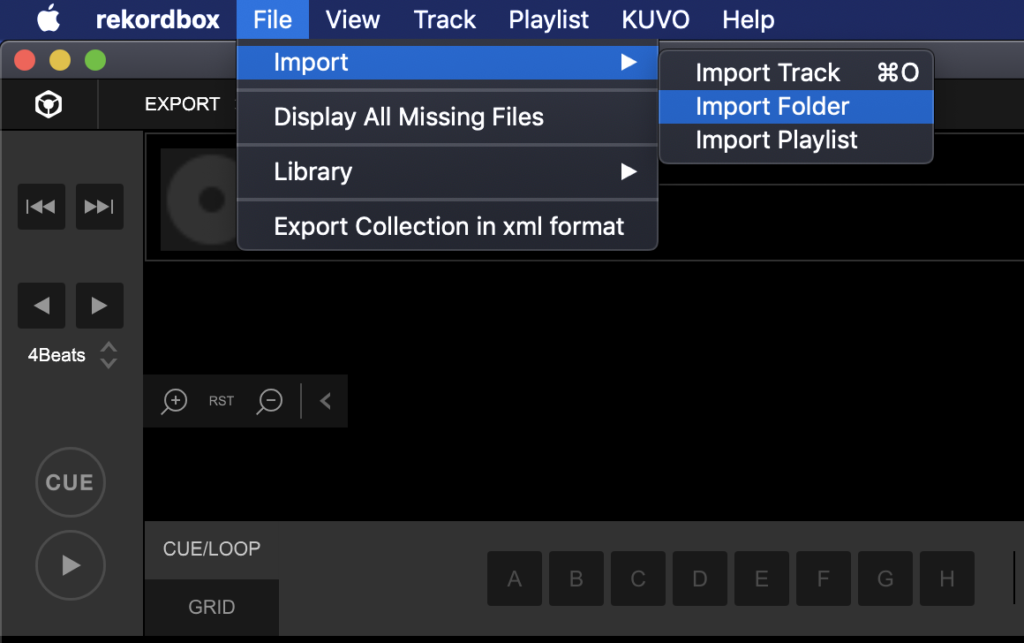 ---
Step 2 – Organise & Prepare
After importing music to your collection, it is worth organising it into playlists within Rekordbox. To create a playlist, right-click on the playlist header in the left-hand navigation and create a playlist.
You can also create folders and intelligent playlists for extra organisation of your music library.
Preparing Your Music
Rekordbox allows DJs to program and prepare hot cues, loops and memory points. You can recall most of these performance features on Pioneer's DJ equipment. We have more lessons on where to set up, prepare and perform creatively with these features in our online DJ courses.
Step 3 – Export
Once organised, the simplest way to export the music to your selected device is to use the sync manager located in the bottom left of the program. Click Sync Manager, and a new window will open. If its the first time you have exported to your device you will need to check the box 'Synchronise Playlists With a Device.'
Individually check each playlist you would like to add to the device and hit the arrow pointing to the right to add the tracks to your device.
Tip: You don't need to drag the files onto your device within your computer or finder window as this will only create duplicates. Rekordbox has automatically added the files through the sync manager.
If you decide you would like to remove a playlist, uncheck that playlist in sync manager and hit the arrow again.
If you want to remove specific tracks, delete those tracks out of the playlist and hit the arrow again in sync manager. Rekordbox will remove tracks that no longer exist in the playlist.
---
Missing Files in Rekordbox
Please note that when imported, Rekordbox doesn't duplicate the file on your computer. It reads the data from its original location. If you change the name or location of the original file, Rekordbox won't be able to access it anymore.
Exclamation mark next to a song!
There is the option to relocate missing files in Rekordbox. Choose File> Display Missing Files > then highlight a song and click the Relocate button. You will then be prompted to point Rekordbox towards that files new location.
Extra Tips for Rekordbox Export Mode
Do you keep losing hot cues you have saved?
If you store any hot cues, loops or memory points on your equipment, you need to make sure you send that information back to Rekordbox on your laptop or computer. To do this plug your USB device in, navigate to the Sync Manager but press the arrow point left first. The Sync Manager will then update your Rekordbox collection with any new cues, loops or grid edits that you have saved during a DJ set.
How to import music or playlists from USB to Rekordbox software
You can import any music from your USB device onto any computer or laptop running Rekordbox, along with all the saved hot cues and track preparation. To do this plug your USB device in, navigate to the Devices panel within Rekordbox, right-click any playlist and select Import.
This feature is great for transferring music between different laptops or computers. It's useful for moving your Rekordbox library, as well as importing your music to a friends laptop for a quick b2b!
Do you own an XDJ RX2/RR/XZ?
Check out our online courses below specifically for XDJ players and units.