THE COMPLETE DJ PACKAGE
OVER 70% CHEAPER
ACCESS TO ALL COURSES
50+ HOURS OF EXCLUSIVE BONUS CONTENT
ALL FUTURE COURSES INCLUDED
What's right for me?
Compare Courses
View comparison table ↓
Close comparison table ↑
| | | |
| --- | --- | --- |
| Serato | Beginner | Intermediate |
| Music Management | ✔ | |
| Music Theory | ✔ | |
| Phrasing | ✔ | |
| Connectivity | ✔ | |
| Software Settings | ✔ | |
| Beat Matching | ✔ | |
| EQ Mixing | ✔ | |
| Filters | ✔ | |
| Hot Cues | | ✔ |
| Looping | | ✔ |
| Slicer | | ✔ |
| FX | | ✔ |
| Beat Jump | | ✔ |
| Transitition Techniques | | ✔ |
| Key Mixing | | ✔ |
| Sampler | | ✔ |
| Slip Mode | | ✔ |
| Scratch Bank | | ✔ |
Happy Customers
Testimonials
Heavenly Father
I have been DJing for about ten months and absolutely love it. I decided to do your course after deliberating whether I needed it or not. May I say, it's the best choice I ever made. I have learnt so much, so quickly, and only wish I tried it 10 months ago. I'm looking forward to the intermediate course as it will SAVE MONTHS OF EXPERIMENTING! Even my wife, who had no interest, can now do a simple mix after watching a couple of your tutorials.
Amrit Bains
This has by far been the best and most useful course I've ever done! It is structured in such a great way that is easy to follow, but at the same time very informative. I've not used my equipment much in the past, until I did your course! It's just really brought everything together for me and makes me want to use them more than ever now! P.S Loved all the sample music you demo with, thank you!
Anthony Cunningham
Just wanted to say a big thanks, how great this course is! I have started learning how to DJ the past year with 1 to 1 tutors, but I have to say this, has helped me gain my confidence further and this course is easy to understand by the way you have structured each video with techniques. I will be purchasing the advanced course and I look forward to learning more!
Asharidge
I have finished course one, I'm so glad I did, it has helped me heaps! I've been playing around for a few years but decided to go back to basics and start at the beginning. So many questions answered in your tutorials which are excellent. I've got more practice to do and then I'll be starting my second course!
Daren Higgs
I have been a DJ for over 25 years now and never had any lessons, just trial and error and advice from other DJs. I've just completed the beginner and intermediate courses and I have to say I really enjoyed going back over the basics. I have also learnt a lot about the software and use of effects. I will be purchasing the advanced course next week. Great tutorials!
Ditwylite
Thanks for a great course. I'm an older DJ who learnt on vinyl, then moved to CDJS and have recently bought the XDJ RX2. I took these courses to get used to the new technology. Love the courses, they're very clear and easy to follow!
Wfp_hendriks
Jamie, absolutely fantastic course! The way you show the various techniques, the structure of the course and the quality of the videos is top-notch! I have done live teaching sessions before, but I prefer learning using your online teaching courses! Already purchased the advanced course and can't wait to start. Also, love the content you put out on your social media channels. Great way to spend my time during the lockdown!
Overview
What You'll Learn
Serato DJ is one of the leading DJ softwares on the market. There is a lot to learn and so many creative possibilities with two versions, Serato DJ Lite and Serato DJ Pro. Whether you're just getting started as a DJ on your new DJ controller or have been mixing for years, our Serato DJ courses will help you master your equipment to use it to its full potential. Learn everything from fundamental mixing techniques, EQ control and transitions to sophisticated mashup mixing, using effects, mixing between genres and much more!
We pride ourselves on not just showing you what a button does but how to use it creatively. The lessons all work in chronological order so that as you master one skill, you'll be able to combine it with others, instantly improving your creativity. Each DJ tutorial within the courses features screen grabs and overhead shots of the equipment, making it easy for you to follow along step by step.
We're also an official Serato certified school, so you can be sure you're getting the best training. Click below to see our featured recommendation on their website. We went through personal training to get this certification. This certification has only been awarded to a few companies worldwide.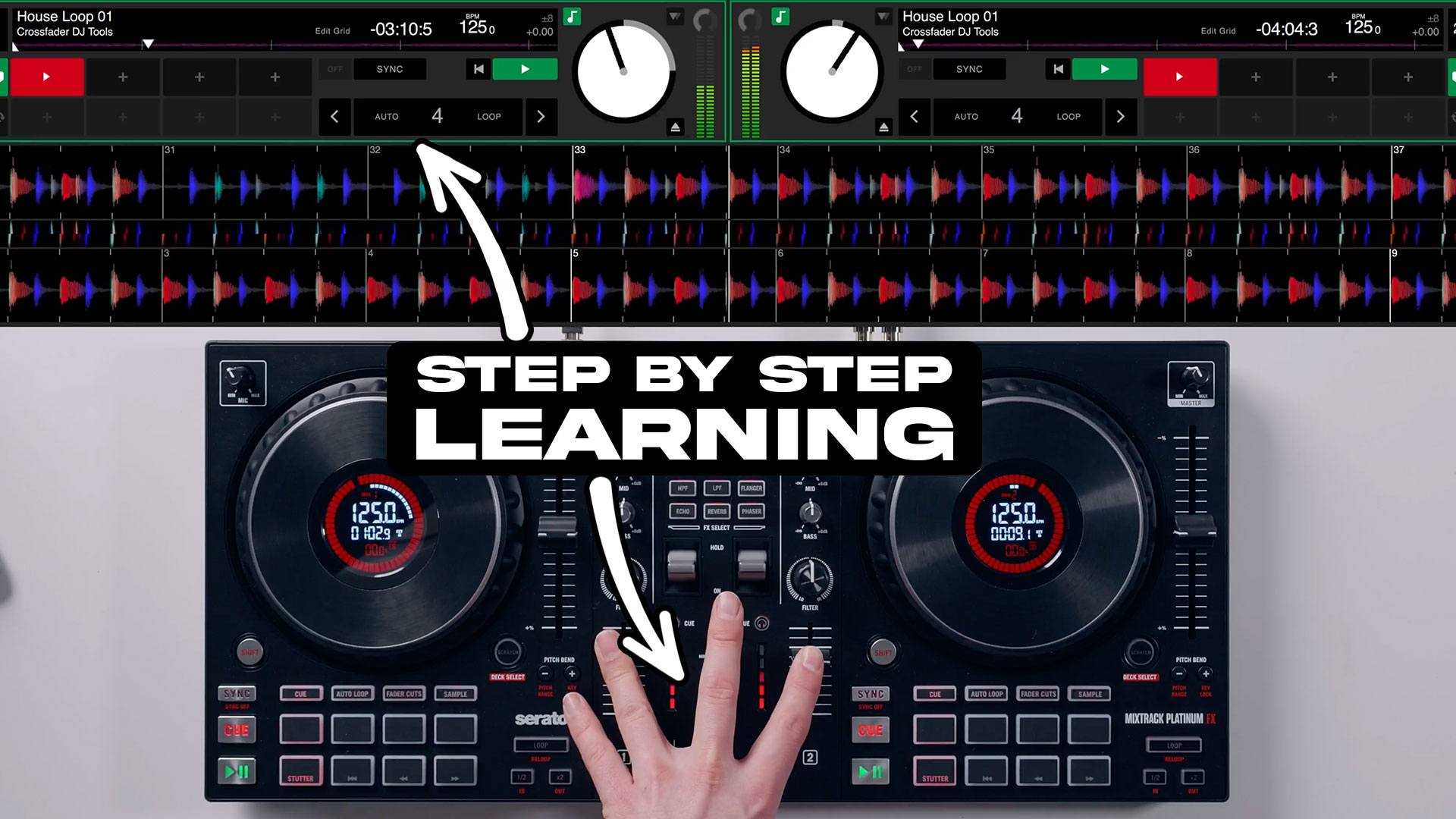 All of the benefits
Why Crossfader?
Free music & DJ/scratching tools
Learn at home on your own equipment
Unlimited views of your lessons
Join a community of other DJs
iOS app available for offline learning
What's The Difference Between The DDJ SB3 Course & Serato Beginner Course?
The Pioneer DDJ SB3 Course is filmed with the SB3 controller using Serato DJ Lite. It's aimed at helping you get started as a DJ if you own this specific unit. The videos in this course are embedded in the Serato Beginner Course, too, meaning you don't need to enrol in both. In the Serato Beginner Course we show the same techniques on various controllers such as the DDJ SX2 and Numark Mixtrack Pro 3. If you own something different to the DDJ SB3, then start with the Serato Beginner Course. If you have a DDJ SB3, begin with the SB3 course and move onto the Serato Intermediate course.
Which course is right for me?
Here is a breakdown to help you choose the right course to start with:
Pioneer DDJ-SB3 Beginner Course
This course is designed specifically for DDJ-SB3 users. Instead of the Serato Beginner course, you would take this course as it's all filmed using this controller. There is a separate course because the DDJ-SB3 has specific features not found on any other DJ controller. However, if you already know how to perform basic mixes, beat match by ear and use EQs, then start with the Serato Intermediate course.
Serato Beginner DJ Course
The Serato Beginner Course is the perfect starting point if you're just getting started with Serato or your DJ controller. If you're struggling to beat match by ear manually or need to master phrasing, music theory, and basic mixing, this is the place to start.
Serato Intermediate DJ Course
The Serato Intermediate Course is the perfect DJ course to start with if you already know how to manually beat match by ear, and can mix intro to outro confidently. This course will help you discover all the creative tools available within Serato and your controller. You'll learn how to start mixing creatively using the tools available. This course will help your mixes stand out from the crowd with new techniques at your disposal.
What equipment will I need?
To make the most of this course, you will need some Serato ready DJ equipment.
Most Relevant Controllers:
Pioneer DDJ SB3

Pioneer DDJ SB2

Pioneer DDJ SR2

Pioneer DDJ SR

Pioneer DDJ SX3

Pioneer DDJ SX2

Pioneer DDJ SX

Pioneer DDJ SZ2

Pioneer DDJ SZ

Denon DJ MC2000

Denon DJ MC4000

Denon DJ MC6000MK2

Gemini Slate

Gemini Slate 4

Hercules DJControl Jogvision

Hercules DJControl Starlight (Beginner Course Only)

Numark DJ2GO2 (Beginner Course Only)

Numark DJ2GO2 Touch (Beginner Course Only)

Numark MixDeck

Numark MixDeck Express

Numark MixDeck Quad

Numark Mixtrack Edge

Numark Mixtrack Platinum

Numark Mixtrack Platinum FX

Numark Mixtrack Pro

Numark Mixtrack Pro 3

Numark Mixtrack Pro II

Numark Mixtrack Pro FX

Numark Mixtrack Quad

Numark N4

Numark Party Mix

Numark Party Mix Pro

Pioneer DJ DDJ‑SB

Pioneer DJ DDJ‑WeGO

Pioneer DJ DDJ‑ERGO

Rane One

Reloop Beatmix 2

Reloop Beatmix 4

Reloop Terminal Mix 2

Reloop Terminal Mix 4

Roland DJ-202

Vestax Typhoon

Vestax VCI‑100 MK II

Vestax VCI‑400

Denon DJ MC7000 (Serato DJ Pro Only)

Denon DJ MCX8000 (Serato DJ Pro Only)

Denon DJ PRIME 4 (Serato DJ Pro Only)

Mixars PRIMO (Serato DJ Pro Only)

Novation TWITCH (Serato DJ Pro Only)

Numark NS6 (Serato DJ Pro Only)

Numark NS6II (Serato DJ Pro Only)

Numark NS7 (Serato DJ Pro Only)

Numark NS7 II (Serato DJ Pro Only)

Numark NS7 III (Serato DJ Pro Only)

Numark NV (Serato DJ Pro Only)

Numark NVII (Serato DJ Pro Only)

Pioneer DJ DDJ-FLX6 (Serato DJ Pro Only)

Pioneer DJ DDJ-1000SRT (Serato DJ Pro Only)

Pioneer DJ DDJ-SR2 (Serato DJ Pro Only)

Pioneer DJ DDJ-SX (Serato DJ Pro Only)

Pioneer DJ DDJ‑SR (Serato DJ Pro Only)

Pioneer DJ DDJ‑SX2 (Serato DJ Pro Only)

Pioneer DJ DDJ‑SX3 (Serato DJ Pro Only)

Pioneer DJ DDJ‑SZ (Serato DJ Pro Only)

Pioneer DJ DDJ‑SZ2 (Serato DJ Pro Only)

Pioneer DJ DDJ‑S1 (Serato DJ Pro Only)

Reloop Mixon 4 (Serato DJ Pro Only)

Reloop Terminal Mix 8 (Serato DJ Pro Only)

Roland DJ-505 (Serato DJ Pro Only)

Roland DJ-707M (Serato DJ Pro Only)

Roland DJ-808 (Serato DJ Pro Only)

Vestax VCI‑300 (Serato DJ Pro Only)

Vestax VCI‑380 (Serato DJ Pro Only)
If you own another Serato DJ enabled controller, then the course will still be applicable. However, you may find that some performance modes can't be accessed directly from your controller and instead controlled via your laptop.
DVS Setup:
If you're using a digital vinyl system (DVS) to control Serato DJ with turntables our courses will be applicable depending on what other devices you're using to control the software. If you have a DJM S9 or DDJ SP1/DDJ XP2 add-on controller, these will help you perform all the techniques taught in the lessons. Please note that we don't show you how to control turntables or tips for nudging the record manually.
Do I need Serato DJ Lite or Serato DJ Pro?
Serato DJ Lite is the basic version of the Serato DJ application. It's perfect for beginners getting started as it strips out all the features you don't need when learning. That is why our beginner Serato course and the DDJ-SB3 course are both filmed using Serato DJ Lite.
Serato DJ Pro comes with many controllers that allow DJs to access the full suite of Serato DJ features. It's also available as a paid upgrade for the entry-level controllers that come with Serato DJ Lite. If you own a controller that uses Serato DJ Pro, you can still take the beginner courses as all techniques apply. 
The Serato Intermediate Course is filmed using Serato DJ Pro, so we recommend upgrading to this version of the software if you don't already have access to it. By upgrading, you will gain access to more hot cues, saved loops, more FX and other features taught in the intermediate course.
What Music Should I Use?
Inside the beginner course, you will learn how to access the various DJ friendly streaming services. Each streaming service has access to millions of songs. You can also follow all the lessons inside the course step by step for free, thanks to our exclusive Crossfader Music Pack. You can download this pack free of charge after purchasing the course. You will learn how to import this music into Serato, ready to follow along step by step. We also give you access to our Crossfader DJ Tools to help you master the fundamentals, such as beatmatching by ear.
For the creative lessons featured in the intermediate course, we use a combination of music from the free pack and officially released music that can be sourced from nearly any streaming service or purchased separately. This is so you can learn how techniques can be applied in a real-world scenario such as a party. Please note you don't have to purchase any music separately as you can just use the music you already own if you choose.
Who's the tutor?
Our dedicated DJ tutor Jamie Hartley started working in the industry as a full-time DJ over a decade ago at the age of 16. Since 2014 he's worked to build Crossfader from a small UK based DJ school where he taught aspiring DJs in his studio into what you see today, a global online DJ school and community.
From working one to one for years in a studio, Jamie has developed foolproof and systematic ways of breaking down DJ skills and techniques so you can master them! Many other DJ schools will show you how things work rather than teaching you the creative skills needed to help you stand out from the crowd.
What Support Will I Receive?
After you enrol in a course, you will instantly access all the videos and lessons to watch as many times as you like. Each lesson has a dedicated comments area for you to ask tutors any questions you may have. You can also get in touch with tutors via email if you're having problems, and we're there to support you every step of the way.
How Do I View My Course?
Purchased courses are instantly accessible via our student portal learning area. You can access your course and lessons 24/7 and watch each video as many times as you like. If you have an iPhone, we also have an iOS app to access our learning portal on the go! Everything in the app syncs up with the web so that you can work seamlessly between the two.
You can also take your lessons on the move by downloading them for offline viewing inside the app. Just like Netflix!
Which Languages Are The Courses Filmed In?
Our courses are all filmed in English. Unfortunately, we don't have subtitles available in other languages. Multi-language support is something we will be adding in the future so check back for updates.
Mixes
Learn Skills Like These
Learn on the go
Crossfader App
Take your learning on the go with the Crossfader iOS app. Download from the App Store and log into your account to access your courses from anywhere! Watch lessons on your commute, listen on the go and pick which videos you want to make available for offline viewing, just like Netflix!
Ask your tutor a question on the go, then pick up your conversation when you're home as your courses progress and comments sync between devices seamlessly.